Pet/ dog chew machine/ production line
04-03-2020
Pet/dog chew machine/ production line
At present, the main dog chewing gum production line of Jinan Sunrising Machinery Co., Ltd. is configured as follows:
1) Single-colored dog chew gum directly extruded by single screw.
2) Single-colored Dog Bite Gum Formed by Twin Screw Curing and Single Screw Extrusion
3) Two-color dog chewing gum molded by single screw and single screw core injection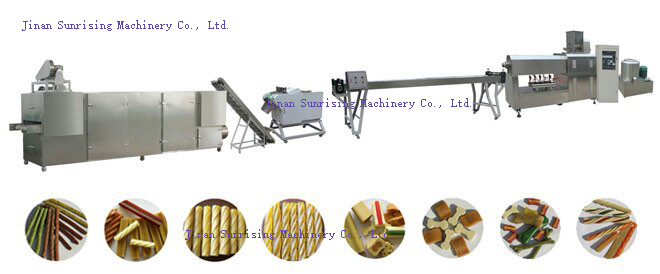 The main production process of dog chewing gum is as follows:
Mixing powder-screw feeding-single screw (single and double or single and single)-cooling conveyor-cutting machine-oven-packaging
Characteristics of Single Screw Extruder;
1. Adopt advanced frequency conversion speed regulation technology to make the equipment run more smoothly and save electricity;
2. The screw is nitrided with alloy steel, and its service life is longer.
3. Visible full-automatic temperature control system, more intuitive temperature control
Contact us:
WhatsApp/WeChat:+86 18615206445
Email: cy@chenyangjixie.com
Corn Snack Food Extrusion Making Machine
Extruder dog pet food processing equipment