Puffed food equipment/machine
09-03-2020
Puffed food equipment/machine
Certainly we are manufacturer. Welcome to visit us to check it!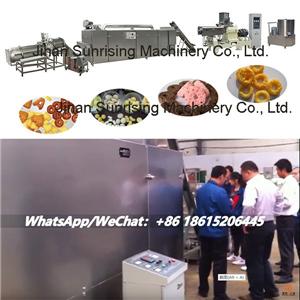 The food produced by puffed food equipment is easy to eat:
After puffing, coarse grain has become cooked food, which can be washed directly with boiled water, made into compressed food, or made into a variety of food after a little processing, which is simple and time-saving.
Puffed food is easy to store:
The expansion of grain is equal to a high-temperature sterilization, and the moisture content of the expanded powder is reduced to less than 10%. Such low moisture limits the breeding of insects and molds, strengthens their stability in storage, is suitable for long-term storage, and improves their eating quality.
With the unremitting efforts of all staff, we hope our products and services can help you to achieve your career, and we hope to become your long-term partner and intimate friend with our sincerity and enthusiasm.

Breakfast Cereal Corn Flakes Snacks Machine
Twin Screw Extruder Puffed Snacks Food Machine